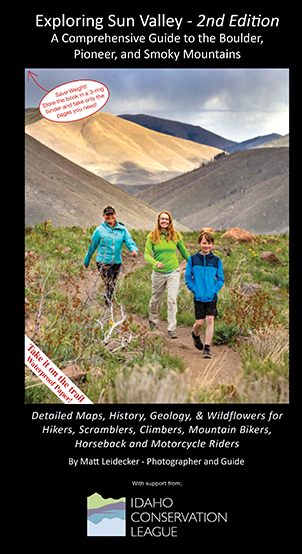 Reader Raves:
Click Here to Buy Online
Just to let you know, I've really enjoyed the Sun Valley guidebook. I'm a hydrologist and have been working in the Wood River Valley for the past few years. I did a very brief summary of the geologic history of the valley for the hydrogeologic framework report we put out this spring. I wish I had seen the summary in your guidebook first--you did a really nice job. I also appreciate the geologic features and mine names on the maps. I'm looking forward to the new guidebook.
- Jim Bartolino
We are new to the valley (as of this past school year), and I view your first book as a best friend who accompanies me wherever I go on the trails. Having a great time with it—thanks!
- Kathryn and Jeff Guylay
I just discovered your book in Sun Valley a couple days ago. It's the best guide to hiking in the area that I've read yet. Wish I'd had it with me when my brother and I ended up in the wrong drainage on a hike in the Pioneer Mountains a couple weeks ago! Although we were still rewarded with an amazing view...just not the one we planned for. :) Anyway, just wanted to say 'good job'!
- Heather Lauer
Good work!! Looking forward to your latest and greatest. Thanks for sharing your legwork and producing such great guidebooks!!
- Nancy McMath
I own and use all your current books (except the Rogue) and they are instrumental in making my yearly trips to Idaho a success. You are a truly a treasure to the people of Idaho and those who love Idaho's most magnificent places.
- Troy Falck
Published Reviews:
Additional Links: