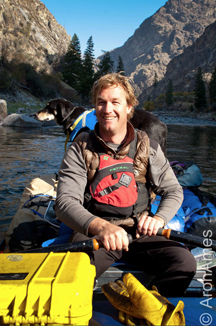 Matt Leidecker grew up in the central Idaho mountain town of Ketchum/Sun Valley. His parents introduced both he and his brother Erik to the outdoors with short hikes into the local mountains. Both attended the Community School where they learned to backpack and climb in the school's robust outdoor program.
During the winter, Matt learned to ski as a member of the Sun Valley Ski Education Program. As competitive ski racers, both brothers gained a solid foundation that would open a window onto a lifetime of skiing and adventure in the mountains.
Matt began guiding on the Middle Fork of the Salmon River in 1991. He worked full time during the summer for the next thirteen years, eventually becoming the lead guide with both Wilderness First Responder and Swiftwater Rescue certifications. From 2000 to 2005, Matt worked as a backcountry ski guide with Sun Valley Heli-Ski guides. He also guides occasionally for Sawtooth Mountain Guides as a backcountry climbing and trekking guide.
A combination of guidebook projects and raising two children (Sarah and Max) with his wife Christine precipitated a shift away from full-time Middle Fork guiding. Matt still manages one or two Middle Fork trips a summer. Recently he has been working on creating unique, custom guided trips that capitalize on his intimate knowledge of the central Idaho Landscape.
Please visit the "guided trips" link for more information.