Matt Leidecker began writing guidebooks in 2005 with his award winning Middle Fork of the Salmon River – A Comprehensive Guide. At the time, he simply wanted to create a better product than what was already published about the Middle Fork.
As a full time commercial raft guide since 1991, Matt already had an intimate knowledge of the Middle Fork. Include his undergraduate geology research on the glacial history and his penchant to explore the many nooks and crannies of the canyon, and Matt probably knew the Middle as well as anyone. At the same time, Leidecker realized that for most people, floating the Middle Fork was an once-in-a-lifetime experience. The underlying drive to write the "comprehensive" guide to the Middle Fork was to provide these "first-time" Middle Fork visitors the information to make the most of their experience on the river.
Over time, as Matt refined his writing, layout, and design style with additional titles (The Rogue River 2008, Exploring Sun Valley 2010, Exploring the Sawtooths 2012) he also began to define the mission statement of Idaho River Publications:
"Inspiring adventure with beautiful, comprehensive, and waterproof map-based guidebooks."
Being a self-described "map geek" Leidecker believed it important for the guidebooks to be heavily map based.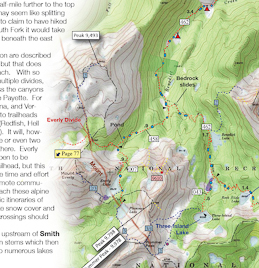 "It gives people an immediate, visual understanding of the terrain even if they don't understand how to read those squiggly topo lines."
Matt wants his guidebooks to provide a thorough understanding of the landscape. This is accomplished in many ways. In his hiking guidebooks, Leidecker does not single out specific trails. Instead, every route is included so readers understand how the trail system is connected and can make their own decisions about how to travel.
The photography is another aspect unique to Idaho River Publication's guidebooks. An accomplished outdoor and landscape photographer, Matt has thousands of images to choose from. Though visually stunning, the photographs are frequently chosen because they provide readers additional visual information about the landscape they will encounter.
The History, Geology, and Wildflower sections that are included in most IRP titles provide readers with a more refined sense of place. A landscape is defined by its underlying geology and Matt's geologic overviews give readers a window of understanding into this sometimes confusing science. Sharing the history of Native Americans, fur trappers, miners and early recreationists offers an additional layer of understanding to the mountains and rivers covered by Leidecker's waterproof guides.
Leidecker is not afraid to push his readers either. He includes many off-trail route suggestions, sometimes ones he has not fully vetted himself.
"The goal of these books is to inspire people to get out and explore. For some, that might just be getting outside. For the more adventurous person there are plenty of hints and suggestions for a lifetime of exploration!"