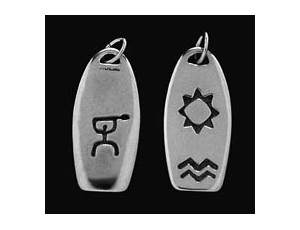 Description:
Back to Main Store
Paddler's Amulet
All of the Jewelry featured on this site is crafted by local Ketchum silversmith John Caccia. John is a long-time river guide and mountain enthusiast. We offer a few of his pieces that seem applicable to the Idaho River Publications boating and mountain community. Here is some more from John's website:
The jewelry products and hand-braided leather goods featured in the Mountain Angels Trading Co catalog represent the best of the past eighteen years of my jewelry making. Since my favorite work is the fashioning of western bola ties, I often describe myself as a "bolosmith." This is a word I coined to mean a craftsman who has simple working knowledge of metals, gems and leather braiding. I am also a silversmith, continually designing and creating new pieces as well as interested in discussing your custom orders/ideas...
Archetypal forms, pictographs, symbolic icon, personal experiences and totem images found along the "Shiny Trail" influence many of the jewelry designs and amulets which I create. I am a boatman, campfire musician, songwriter, Permaculture Certified gardener, activist, student of life and grateful father of 2 very interesting teen-aged sons.
When making jewelry, one of my main goals is to infuse Chi, or life force, into each piece I make. Most of my jewelry products include a written text of information, which help to interpret the significance of a petroglyph, shape, symbol or spiritual icon. I hope that you find my jewelry designs attractive, emotionally meaningful and empowering...
Buy Online - Price:
$55.00
| | |
| --- | --- |
| Paddler's Amulet (comes with 30" leather thong and polishing cloth) | |
John Caccia Jewelry: