Idaho River Publications
is an independent publishing company based in Hailey, ID. Owner and publisher, Matt Leidecker, grew up exploring and guiding on the rivers and in the mountains of central Idaho. IRP's
waterproof, map-based guidebooks
seek to provide a comprehensive understanding of the landscape. Going beyond simple river and trail descriptions, the books are loaded with photographs and include sections on the history, geology, and wildflowers making them an all-in-one resource for adventure.
IRP's first title,
The Middle Fork of the Salmon – A Comprehensive Guide
was an instant favorite among guides and private floaters. It won the 2006 National Outdoor Book Award. More than 10,000 copies of three different editions have been sold to date
The rigors of the river environment necessitated printing on waterproof YUPO paper that is virtually indestructible. Both the Middle Fork and Rogue River (2008) spiral bound guidebooks can be completely submerged in the water. The UV-cured inks will not stick or peel when the books dry out. The books even float, and have survived several flips and thrashings on the river.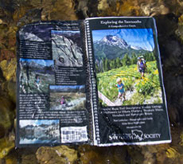 In 2010, Idaho River Publications released its first hiking-oriented book to the mountains around Sun Valley, ID. Covering every road and trail in the Wood River Valley,
Exploring Sun Valley
offers the most comprehensive coverage of any guidebook on the market. Both
Exploring Sun Valley
and
Exploring The Sawtooths
are more than simple trail guides. They inform readers about the local history and geology, and provide many off-trail route suggestions to inspire scramblers and climbers seeking further adventure.
Like the river guides, IRPs hiking guidebooks are printed on the same bombproof waterproof paper. They can be taken on the trail in any condition, spring, summer, winter, or fall. Clip the book to the outside of your pack, or stuff it in with the rest of your gear. They can take any abuse you can dish out.


Click on any of the images below to learn more about Idaho River Publications guidebooks.